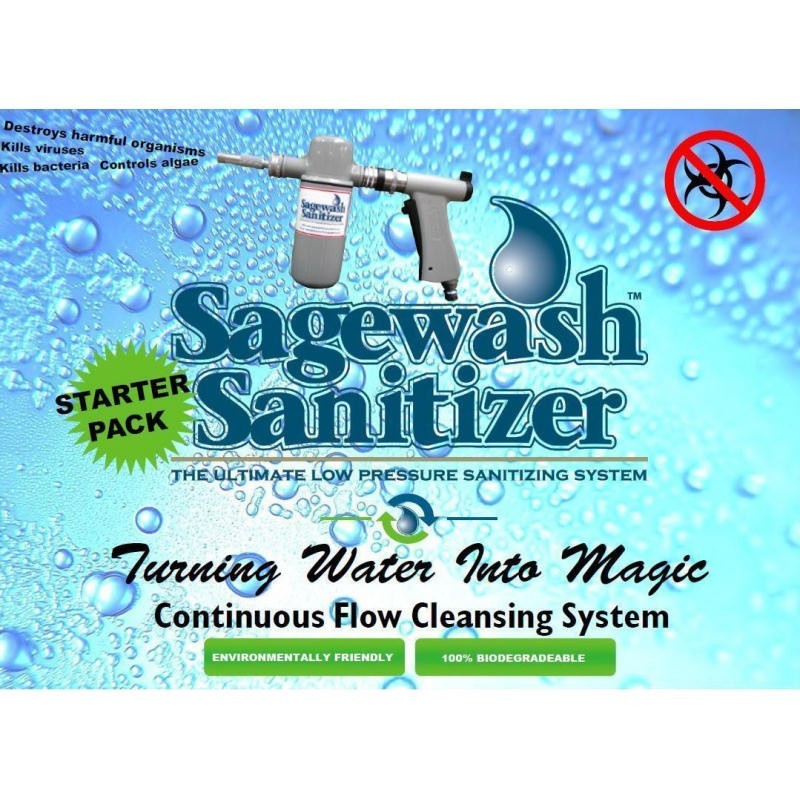  
Starter Pack
1 Sagewash™ Sanitizer Pro Hydro Venturi System, nozzle, hose connector, wall mount and 3 tablets
Price excluding VAT : 291,67 euros
Package content :
The Sagewash Hydro Venturi 250ppm Professional Spray Gun, with quick connect coupling, 3 individually packed Sagewash Sanitizer Tablets, wall mounted holding bracket and fixings.

The sprayer works at Hydro Venturi, set at 250ppm, the adjustable nozzle allows you a water outlet between 3 is 7 bars. It is a low pressure system, which does not damage the media you spray. Usable with a 0.15 diameter garden hose, the aqua stopper is supplied.
The dry calcium hypochlorite tablet to be inserted into the container before first use is for exclusive use with the Sagewash Sanitizer.
The wall mount allows you to store your sprayer vertically after use, in a safe place.

Caution : ONLY use Sagewash™ Sanitizer tablets, to avoid damaging your Hydro-Venturi sprayer.
Website and secure online payment

Ecological and biodegradable products

Free Colissimo delivery from 150 € order
You might also like