Trigger Spray
Spray in 750ml - Ready-to-use solution usable on any support: on any support: agricultural domains, farms, pet shops, agro-food sectors, collective kitchens, taps, toilets, containers, etc ...
Simply spray after cleaning the dirty surfaces with detergent.
For total disinfection, leave for 5 minutes and wipe with a paper towel, or allow to dry. No rinsing. Total sanitation. Eradicates viruses and bacteria.
The sprays are solid, and to keep once empty, they can be refilled with the solution packaged in 5 liters can for more economy !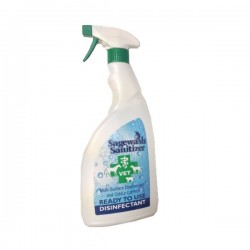 Regular price
€65.00
-€5.00
Price
€60.00